This post will have a bit of everything and a lot of photos…
To be perfectly honest the coast of Sinaloa and Nayarit is beautiful, but so far nothing quite compares to what we saw in Baja.  Sorry Edmundo.  Don't get me wrong there are awesome places all along the coast, but not quite there for us. There is plenty of entertainment on the road since driving in Mexico in itself can be quite the adventure (especially if you like suspense and action).  Luis learned how to drive in Venezuela, so the minute we crossed the border into Mexico he recognized the same Latin American driving style.  No rules hold and every driver for him or herself, sadly the rules do hold for us foreign tourists… we already paid our way out of trouble and we would like to keep that to a minimum.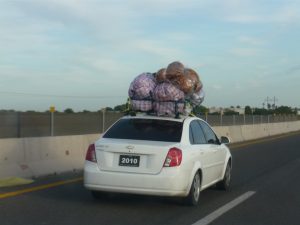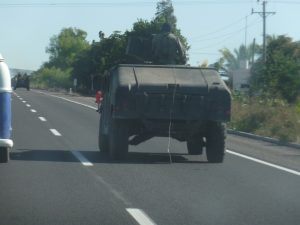 We camped in Las Glorias for one or maybe two days and met two wonderful couples… sadly we can only remember the names of Carol and Bill who were very kind and helpful to us and fed us the best baked mini potatoes ever… top secret recipe.
We meandered to Mazatlan because we had heard that even though it is a tourism Mecca it still has a good personality. This proved to be fairly true in the old down town area.  We stayed at an RV park by the water where we were the smallest rig by a longshot… we're talking million dollar homes on wheels, with full bars set up under their awnings with portable icemakers and everything!  We parked on the equivalent of nosebleeder seats, cheapest seats in the house right next to the busy road outside the campground.
The highlight of Mazatlan was definitely the old downtown and its famous public market where we had some of the best food ever in a booth next to hangin' "fresh" meats and wonderful fresh homemade cheeses.  Do NOT miss Mariscos El Tigre if you visit mazatlan.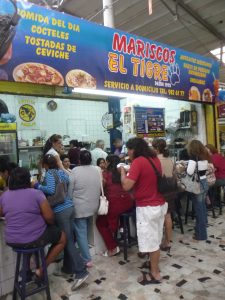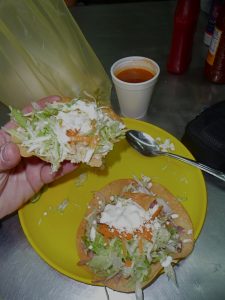 We left mazatlan in search of a little less people and ended up in a place with too many mosquitos and no-see-ums: San Blas.  San Blas is a very quaint coastal town with a lively, but mellow nightlife around the main plaza.  The beach is nice, but not spectacular… however, as I mentioned it is infested with mini flying vampires that pay no attention to eco groovy mosquito repellent or tent mosquito netting.  Luis, who sleeps how he arrived in this world was covered in bites from head to toe!  The highlights of San Blas included a wonderful dinner on the plaza with Marie and Laurent a very cool  Québécois couple we met at our campground and an even better meal Luis cooked at our campground:  fresh shrimp sauted in garlic and butter  accompanied by pasta with a caprese sauce…
Sadly this post sort of ends on a bad note… the day we bid farewell to Marie and Laurent at San Blas we headed south toward Sayulita and after a few miles became disoriented and briefly lost.  When we found our way back to the road we ran into this: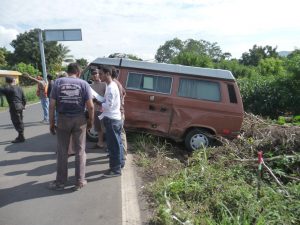 It was a horrifying and stressful minute while we pulled over and jumped out of the truck to find out how Marie and Laurent were.  Luckily they were rattled, but safe and sound. The accident had just happened so we decided to stay and help as much as we could.  I cannot imagine how hard this was on them.  After several hours (close to 6) they dealt with several different officials, an insurance guy, and every single person driving buy who stopped to see what happened.  They also had to pay what we consider a huge mordida (bribe) that was called a "fine" and a huge tow truck fee that was obviously arranged between the traffic guys and the tow truck owner.  After it was all said and done, the Van ran perfectly and everyone on both sides of the accident was fine.  We spent the following few days with Marie and Laurent and traveled with them to Puerto Vallarta. We hope the rest of their trip goes well and doesn't include anymore stingrays or car accidents. You can follow their trip (if you can read french or feel like practicing) on their website: guerbilla.posterous.com.