After the long and arduous drive down to Urique it was necessary to sit back and enjoy the amazing views of the towering mountains that stand above the town.  The lush tree covered hillsides and big rock slabs jutting out of the top of the mountains are incredibly awe inspiring.
We found a great place to stay called Entre Amigos (Between Friends), where they rent rooms or a place to camp. The place is owned by a group of friends including the one that was there upon our visit: Keith, a guy from Oregon. These friends have done an amazing job with the little property. What we liked most is the garden which is healthy, well organized, organic and beautiful. It has lettuce, kale, spinach, onions, cabbage, and so much more growing, and best of all you get to pick whatever you want as part of the price of your stay here. It is hard to describe Entre Amigos or how much we liked it there in words (one of our main problems in general when it comes to writing this blog). The property is set at the base of the canyon, not far from the River Urique and with amazing views of the surrounding mountains, in a green lush paradise. Besides the amazing garden, there are trees and plants everywhere: Neem trees, Papaya, grapefruit, and amazingly tasty tangerines among others.  There are small paths running through the property and at the top of the hill, there are two guest rooms, a hostel room, and a communal kitchen area for all to use (the dining room table doubles as a ping pong table). The partners designed and built all the structures with the help of some locals, apparently the entire project has been and continues to be a "learn as you go" experiment and they seem to have done a great job… all the rooms are built out of stone, cement and local dirt as well as locally lumbered and processed woods.
I am not sure if we have made it clear in past posts, but we love taking showers; we love them so much we carry a propane on demand water heater and a 12v pump in order to take them anywhere. I know that is not really roughing it… but have you seen our set up? Well the next best thing to the edible gardens at Entre Amigos is their shower… yes the shower gets top billing. The shower is in the Shower House, a nice purpose built ample room that houses only the shower and a nice bench.  The water is heated by a wood stove just outside of the Shower House so that you have to plan ahead for you shower. You start the fire and keep it stoked until the tank feels like it is pretty hot, then you stoke it up one more time just before you get in, so that you get a nice long hot shower. Once in the shower, the water falls like a downpour or perhaps a warm tropical waterfall with strong flows of blissfully hot water. I don't know if it was the fact that the water is wood heated or the shower head is just really great, but we both agreed that it was the best shower that we had taken in a really long time, perhaps ever. Keith said he calls it the Orgasmic shower, and we couldn't agree more! On a side note, Lacey got a little surprise while in the shower in the form of a hairy "little" 8 legged friend climbing over her clothes.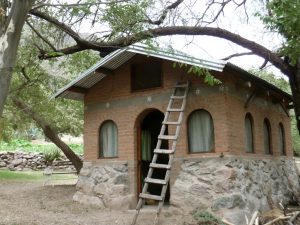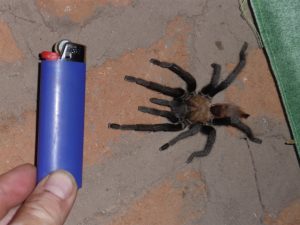 At Entre Amigos we met Maruka a local lady who is very sweet and talented, she taught a tortilla making class for silly little us.  We provided the Maseca (corn flour) and she taught away.  Lacey turned out to be a natural tortilla maker and Luis the self appointed Chef in the Expedition turned out to fumble and produce misshapen horrible little tortillas no matter how hard he tried… he however can make Arepas.
After a couple of days of enjoying the area and Entre Amigos we drove the 7,600+ foot climb out of Urique through the crazy switchbacks and precipices to reach the road that leads through the Canyon to the town of El Fuerte back in Sinaloa. It had rained the day before we were leaving, and as we made our way back up the winding road, I looked down below at the town. The moisture from the rain was being pulled back skyward by the sun that was shining over the valley, creating a mist that almost hid the town from view. I couldn't help but think what a magical place this is.
The drive through the canyon led us along new, "not as" narrow, windy mountain dirt roads as we made our way down to the Rio Fuerte, then continued to follow it out to the town of El Fuerte. It was a great drive, and we were glad we decided to go this way. It gave us the opportunity to see some sights that not many visitors to the Copper Canyon get to see.
On a funny side note… we were told by many, many people to avoid The Copper Canyon by vehicle and by ourselves because of criminals and pot growers in the area.  We know they are out there (both), we heard many stories from all the locals.  We had no problems until we got out of the Copper Canyon area and back to Sinaloa at the Municipio de El Fuerte were we were pulled over for the first time in our trip.  I will admit I was driving about 50km/hr in a 40km/hr area, but I was keeping up with traffic.  We were singled out.  A jolly looking cop, came up to us and informed us of our infraction and added that we would have to go back to "the" office to pay some exorbitant amount of money, "but," he added "the office is now closed so we can probably arrange something so you do not have to wait until tomorrow."  Isn't that sweet and considerate.  I (Luis) decided to go for Naive and said:
"Maybe I should just wait until tomorrow and pay the fine at the office, I would not want you to get in trouble."  To which he answered:
"No trouble at all" This went on and on and back and forth for a few minutes, a cute little cat and mouse game that was almost enjoyable because we all knew the outcome. But I gave up and decided to pay him off, but how much?  We did not want to give him too much, and too little might insult him.  So we looked at our cash and based our decision on availability: 70 pesos ($5.50) or 200 pesos ($16.00) we went for the 70 with some trepidation, but the Jolly Cop took it with a big grin and said: "have a nice day." We figured this was his Christmas bonus. In fact, we were pretty sure that was the reason for the cops being out there in the first place. While Luis was talking to the cop, Lacey saw another cop across the street flag a guy on a motorcycle over. The guy on the motorcycle slowed down, pulled over, slapped some money in the cops hand then took off again.
Less than 10km later at the next poblado, we were pulled over again!  This time it was not cute and I was not happy, as I was definitely not committing any infraction (other than driving a California truck).  When the cop came up to the window I said: "Sorry man, we were pulled over less than 10km ago and we gave them all the money we had!"  He thought about it… Lacey says he must have been trying to guess who had beat him to our money… after a moment of thought he said: Please slow down and drive carefully." Yeah, we thought, Merry Christmas to you too!