We love food. Truly, deeply love food of all kinds. After spending four and a half months in Mexico we saw beautiful places, met wonderful people, but what we may miss the most is the food of Mexico. I salivate and cry just thinking of some of the dishes we savored at some places we may never visit again.
This post we are dedicating to some of these places and some of the food we experienced throughout Mexico, but keep in mind we have so many experiences and photos of food in Mexico that we don't have enough space to share them all. There are too many good places to talk about in one post, some are mentioned in earlier posts such as the tamales in the outskirts of Ensenada, in La Paz we enjoyed the best fish and shrimp tacos, the symphony that is the ceviche at Mariscos del Pacifico in Los Mochis, goat birria at Birrieria San Blas in Los Mochis as well, and so on and so forth. What we will try to do here is mention a few we did not mention in prior posts.
Let's start with tacos. Tacos are perhaps the best known food of Mexico (in my humble opinion) and there are a thousand variations and not just the toppings, but the tortilla used as well. Toppings range from flying ants to any part of a beef's head, really any protein you can think of can be a topping. Above the protein topping there can be just as many variations, but the most common one we saw included (but not limited to) onions and cilantro. We had good tacos almost everywhere in Mexico, but I must say my personal favorites were in San Miguel de Allende about 2 blocks from El Jardin at a stand that only opens at night.
The place is just a street cart that does not look like much and may scare a lot of non-street food addicts out there, but please if you are ever in San Miguel stop by and savor the goodness. The cart is about ten feet long maybe twelve and from opening to close there are four guys behind the "counter" pumping out food with a robotic efficiency that would impress Gordon Ramsey. These four guys each have a station, adobada station, asada and chorizo station, cabeza station, and assembly station. A well oiled machine, all four guys would take orders at the same time from dozens of customers and no order went ignored, it was amazing. The flavors of the toppings on these 4 to 5 inch tacos are rich and perfectly seasoned. I think my record was 8 or 9 tacos on one visit. God, I miss that place.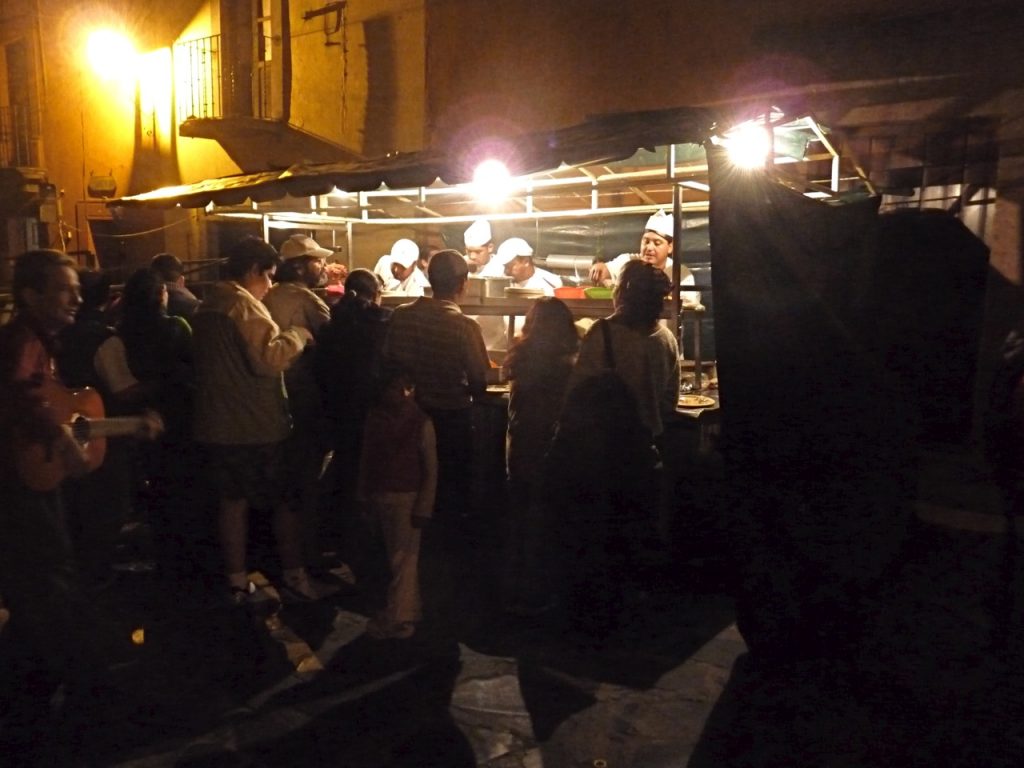 Taco stand in San Miguel de Allende, Mexico from Lost World Expedition on Vimeo.
Carnitas… ahhhhh divine swine. I dig the swine, it sure ain't kosher but I love it and carnitas is pork prepared in one of its tastiest (and unhealthiest) ways. Unhealthy you say? Well this ain't your typical roasted pork. The traditional way to cook carnitas is in a copper pot. Lard is used to cook the pork. Once the lard is boiling lighlty, pork and spices are added. Next comes the simmering of the meat until tender over a very low heat. Once appropriate tenderness is achieved, the heat is turned up and the outside of the pork begins to crisp. The carnitas can then be shredded and served to its faithful followers. The town of Quiroga calls itself the Mexican Capital of Carnitas and after eating there we must agree.  If you do visit Quiroga prepare yourself for a spectacle, dozens of street vendors have mounds of cooked pork on display. These mounds may not look appetizing to some, but it is juicy and tender pork heaven. As you walk by all vendors will offer you big chunky samples of their carnitas and in fact you may have a completely full stomach by the time you come around to deciding which vendor to buy from. Being the gluttons we are we decided to eat after the rounds. We settled for Carmelo's Carnita's, in part due to Carmelo's charismatic personality. You can order no fat at all called masizo (solid) or a mix of fat (skin and plain old fat), or a mix of fat and solid meat (surtida). I like the flavor of the skin so a mixta or surtida is my preffered choice. How I yearn for a big plate of carnitas with some corn tortillas.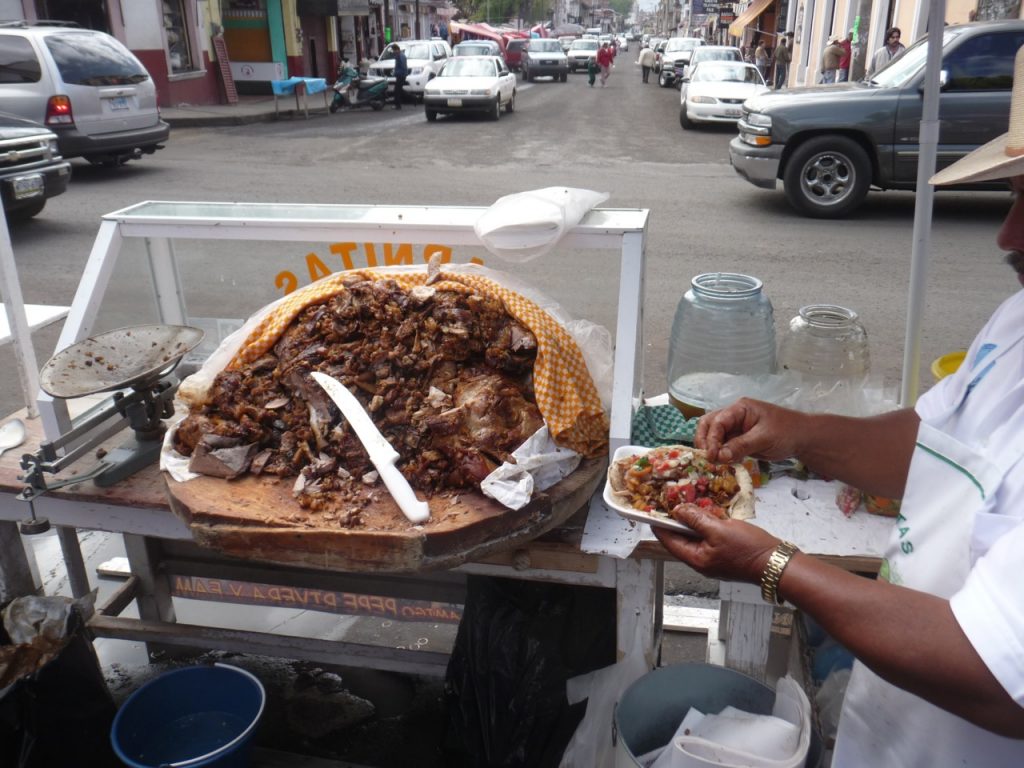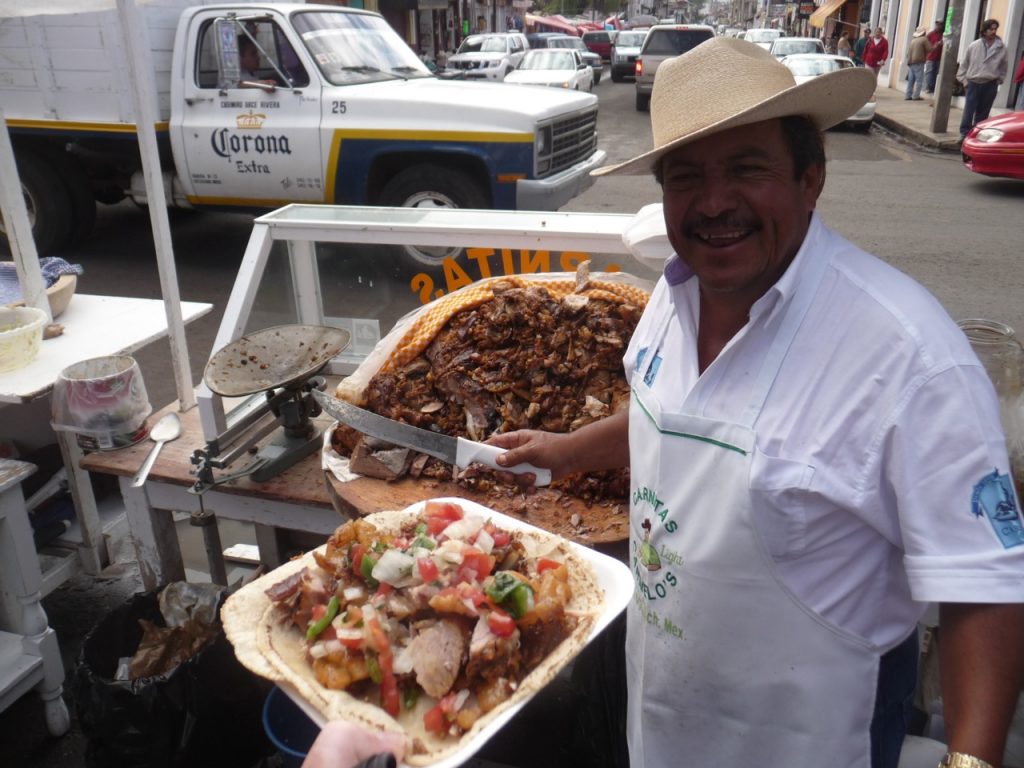 Oaxaca. Oaxaca is perhaps the foremost mentioned state when Mexican food is discussed and by our experience this is well deserved. The food we enjoyed in Oaxaca City wether it be street food or avant-garde food with traditional ingredients was outstanding. In Oaxaca we found two restaurants that we especially enjoyed thanks to the wonderful website called OneForkOneSpoon written by Grace Meng(a must read for anyone that loves food, especially you Laura!). Two of her suggestions were: La Biznaga and La Olla.
Grace described La Biznaga simply as "perfection" and it really is. We had two meals at La Biznaga and they were delicious and in a wonderful setting with impeccable service. My favorite dish there included an ingredient I had never heard of: Huitlacoche. The word huitlacoche comes from the Nahuatl language and it translates to "ravens excrement." Yep, it kinda looks like it as well, but it has a rich and complex flavor. Huitlacoche is actually a fungus that infects corn and it basically replaces the normal kernels of the cobs with large distorted tumors analogous to mushrooms. Does not sound that good, but it added lots of love to my dish. La Biznaga is good because it uses traditional ingredients with respect, but the dishes they present are modern,  elegant and tasty.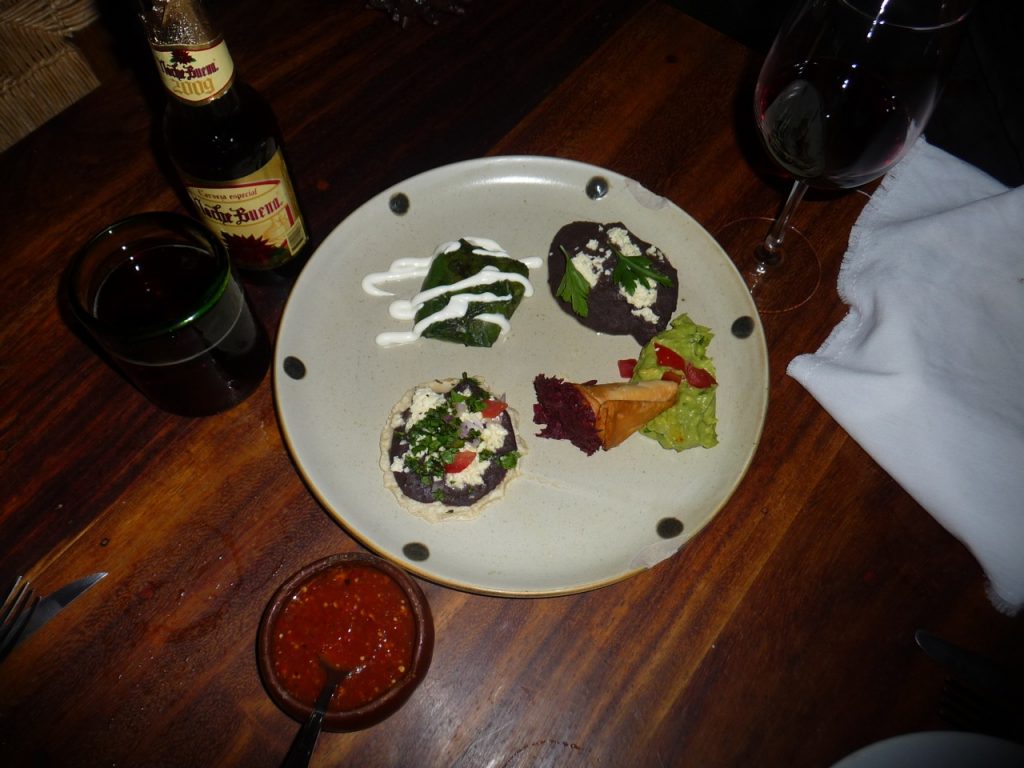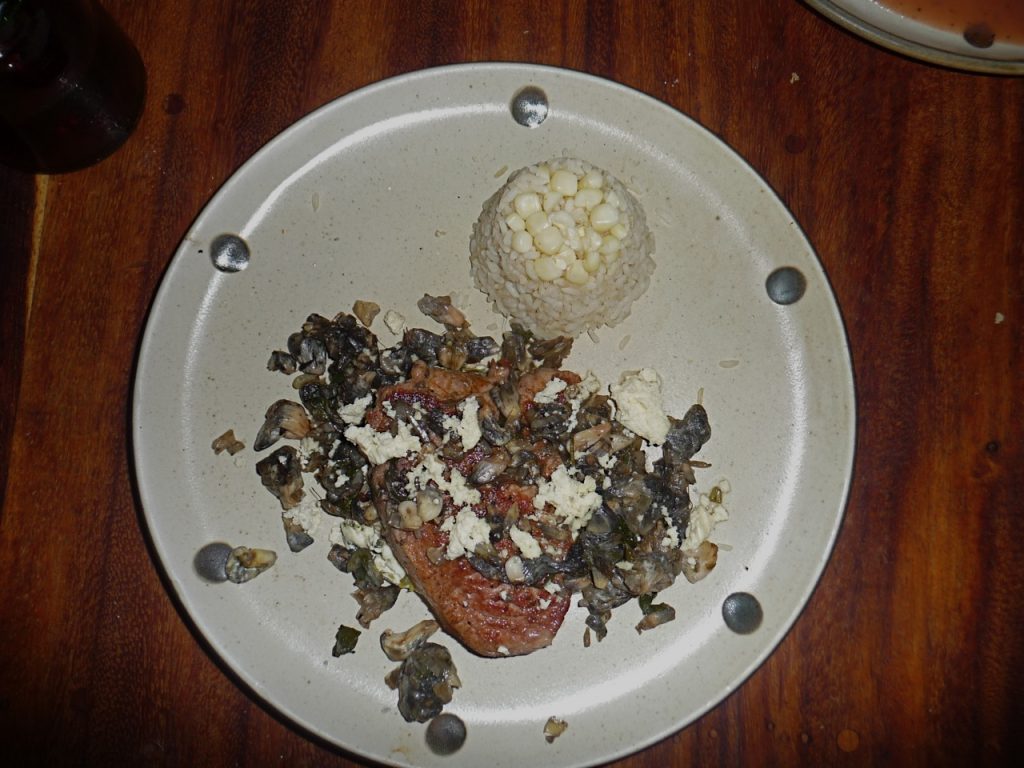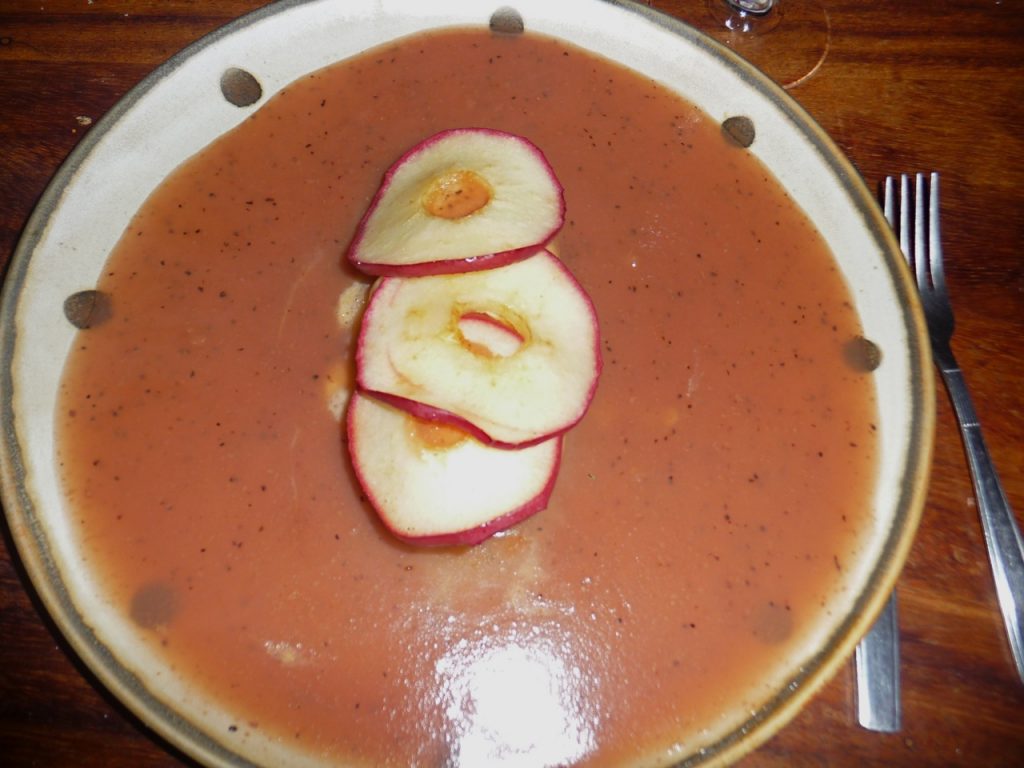 At La Olla they stick to more traditional dishes and we really enjoyed it. Lacey and I were both introduced to the wonders of chapulines at La Olla. I ordered a sampler dish with some of the typical Oaxacan dishes and one of them was a ripe tomato cored and stuffed with petite chapulines. Chapulines are grasshoppers that are dried or fried, sometimes they are seasoned with tomato and chiles and they are infused with rich flavor. We really liked them.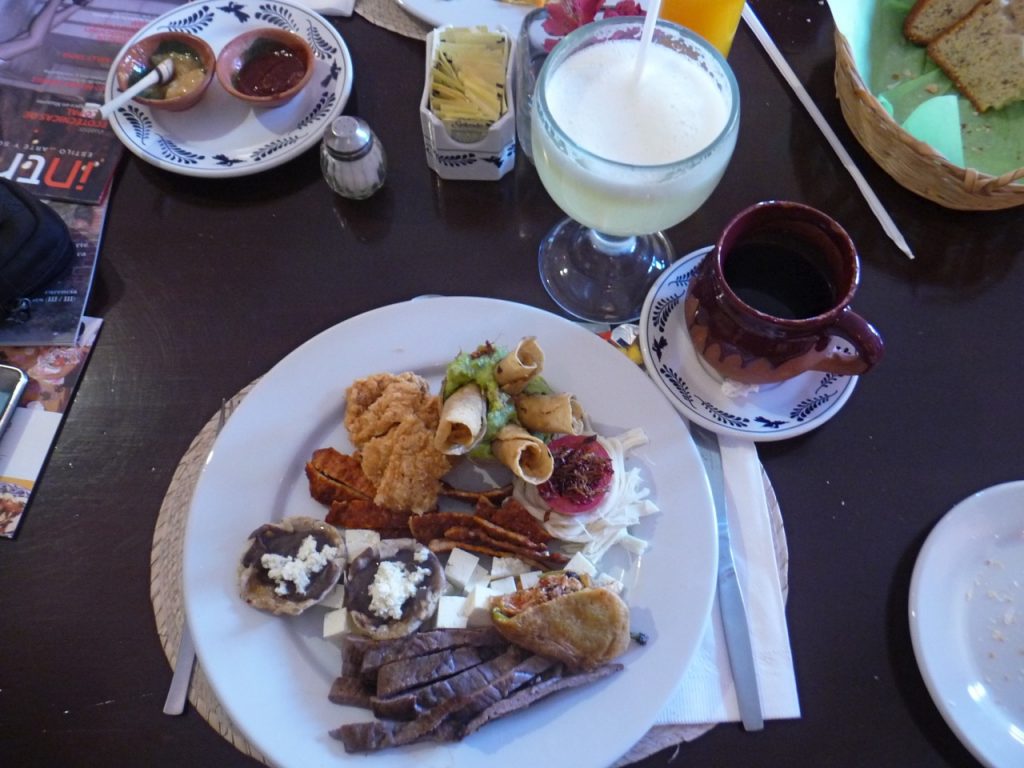 In Oaxaca I finally tried a mole negro that I truly liked. I have tried mole negro in many restaurants in the U.S. that generally did not impress, none of them were bad they just were not good (well some of them WERE bad).  At Tamales Mina we had Chicken Tamales with Mole Negro that were truly manna from Heaven. I was making semi orgasmic sounds the whole time I ate my tamal much to the discomfort of fellow customers (and readers I am sure). The texture, depth and  levels of flavors in a properly cooked mole negro are truly an art form that is hard to replicate. More power to you if you can. I am afraid to even try.