After an uneventful border crossing we visited our friends at BajaRack in Ensenada.  A few months ago we attended an event dedicated to like minded vehicle based travelers called Overland Expo.  At the Expo we camped next to the BajaRack exhibit and after our four day stay Sergio, the owner of BajaRack was kind enough to offer us a custom rack for the Landcruiser.  Part of our visit to Ensenada was to pick up the rack and we were very exited to pick it up.
Ensenada is a fairly large town and I can't say it would be the best place to camp especially not the week of one of the largest off road events in the country the Baja 1000, luckily we were invited to stay by yet another gracious host: Sergio and his family.  Not only did Sergio give us a bed and a rack he took us to the oldest bar in Baja (Hussong's) and to a great party thrown by the folks at Wide Open Baja.  We had a great time with the BajaRack family at this party… just ask the guys in the following pictures.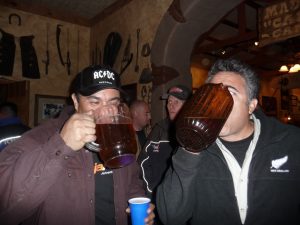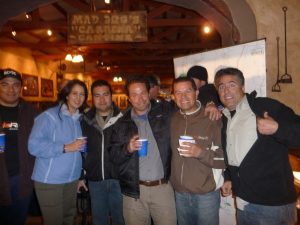 We got our new rack and even got to go out on a photo shoot with Enrique the photographer for BajaRack. Our new rack is awesome and it also looks great (form and function)!
The Baja 1000 is a very important event to many in Baja, (if you have never heard of it check the highlighted link) the staff at BajaRack even took a half day of work off to see the event.  I have some reservations when I think of several hundred trucks flying through off road trails in this beautifully desolate desert, but once you hear the engine of a trophy truck rumbling, primal instinct takes over and you just want to see the driver put the pedal to the metal and see him fly! Very cool.
Food in Ensenada did not dissapoint.  Every single taco we had was good (and we had quite a few), some were outstanding, but all good.  We had Carne asada, head (don't ask if you can't take it), tripitas (intestines), adobada (pork with spices "a la gyro style").  If you come down to Baja please do not shy away from street tacos.
Last but not least; we stopped at a highly recommended tamal stand on the way out of town, and it most definitely did not disappoint.  There were beef and chicken tamales, some wrapped in corn husk and others wrapped in banana leaf, some with red sauce and others green… all out of this world full of flavor.  The wrapping itself lended to the flavor of the tamal, Luis preferred the banana leaf and Lacey the green sauce corn husk chicken with its light hint of heat.  This place is a must!