We love food (maybe Luis more than Lacey) and a great deal of this little experiment in travels is for us to experience the regional foods of all the places we visit.  We make it a point to eat what the locals eat. We will, on occasion post recipes for any who want to try, and for our friends at Coastal Grove Elementary and their teacher Miss Katey.
Machaca, is basically dried meat, it could be beef, burro, fish, squid, you name it, anything available to preserve and eat. Machaca has been around since the days before refrigeration when the best and perhaps the only way to preserve food was to salt it and/or dehydrate it.  Machaca is most definitely not jerky, the word machaca comes from the word machacar which means to pound or crush, so perhaps think of it as jerky that has been crushed into very fine shreds. To reconstitute simply add water and cook to your liking.  We had machaca at a roadside stand and after observing the cooking process Luis recreated it with a few of his own twists, here is what he did:
Sauté finely diced onion and a few teeth of garlic in plenty of olive oil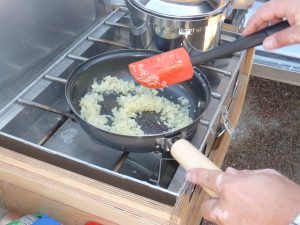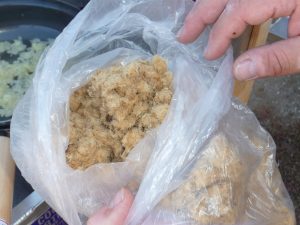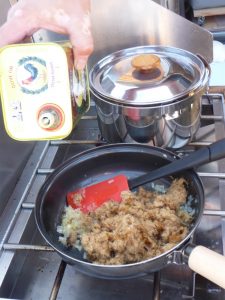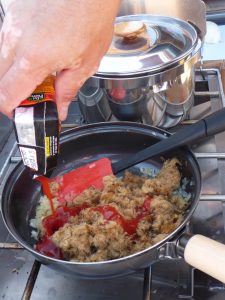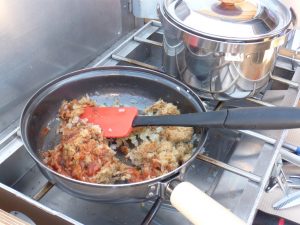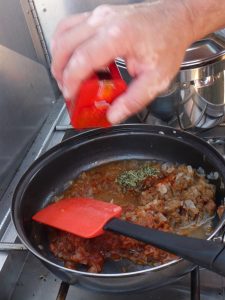 It is important to let the pot simmer for a few minutes to make sure the machaca rehydrates and absorbs all the flavors you are simmering it in.
Fresh flour tortillas are nice but not essential (another recipe, maybe someday), rice, and some shredded cabbage with lime, garlic salt and a small dollop of mayo (mayo not essential) and voila: machaca burrito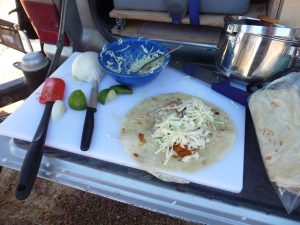 We also have a bag of squid machaca that was kindly given to us by Sandra the caretaker at the campground we stayed in Mulegé, we will report on that one later, but preparation is very similar.