Parque Nacional El Imposible was our first pleasant surprise in El Salvador. We had heard about this fairly new reserve from several blogs and from our friends at Lonely Planet and we decided to spend a few days hiking there. We like the name El Imposible (The Impossible) a lot; there is a Mission Impossible ring to it. It turns out it was named for a precarious gorge which claimed the lives of many folk in the past. The gorge has since been bridged, and the impossible has become the possible, but the name still stands.  El Imposible has only been around since 1989, it extends for 38.20 square kilometres and the park has altitudes that range between 250 meters (820 feet) and 1,425 meters (4,600 feet) above sea level.
The park is run by a non-profit Salvadorean group called SalvaNatura. We got in contact with them because we had read that tickets need to be obtained in advance; however, this is not the case. You may purchase tickets at the park and camping, showers and toilets are available and quite nice. The SalvaNatura people are extremely friendly and helpful. They are fighting against all odds to save this small section of forest, which is the last remaining significant stand of tropical forest in northern El Salvador. They have to contend with poachers, coffee plantation owners and local tourists who are still getting used to a lower impact camping style.  It is very hard to implement a protected area when some locals see the area as a great hunting ground, fishing area and a source of good clean water for their fields. With salt water intrusion becoming a significant problem in all of the low lying coastal areas, protection of the watershed is becoming more important than ever. This large stand of forest is also very important in protecting all of the many species of birds, plants and animals that can be found here. SalvaNatura is doing a great job here at El Imposible, but there is a lot of work ahead of them.
The road that leads to the park is just south of the town of Cara Sucia (Dirty Face), it is a fairly steep and sometimes pretty rough dirt road. It can be done in a 2 wheel drive vehicle, but decent clearance is a must. If the road is wet it could get pretty nasty. The dirt road will take you to the town of San Benito and it ends at the park.  There is a small "Eco-Hostel" not far from the park in case you do not want to camp which is also run by Salvanatura.
The visitors center has a small museum that gives you some background on the history of the park, its significance and even some descriptions of the local flora and its medicinal uses.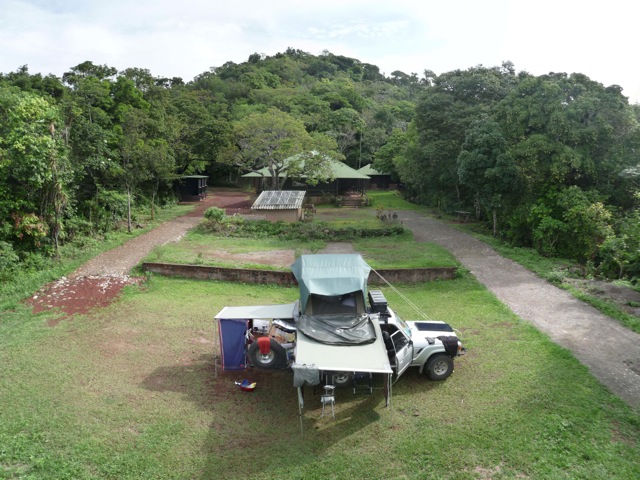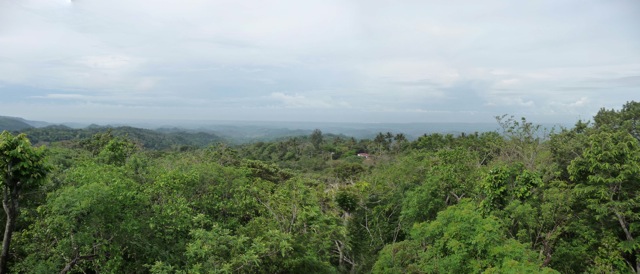 We fell in love with this place immediately. It feels like you are millions of miles away from civilization (and maybe we were). There are all kinds of birds, insects and animals that surround even the visitors center and just a few minutes walk away from the visitors center, you are immersed in jungle, surrounded by tons of big trees and vegetation. One plant that really intrigued us was the Strangler, it is a tree that envelops an existing tree until it basically kills it and takes over its place leaving a hollow area were the original tree stood. It is pretty amazing to see it taking down some of the huge trees in the forest.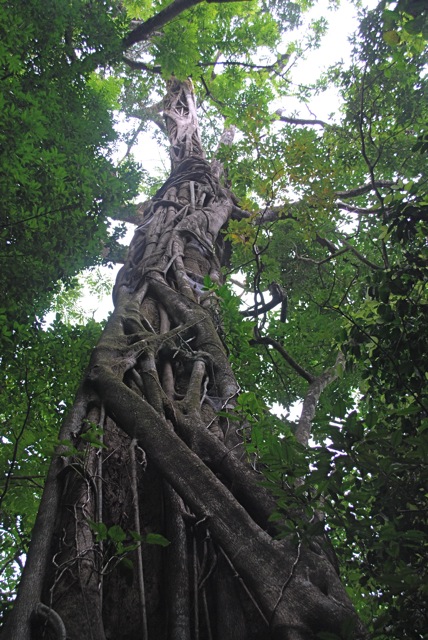 We decided to do a day hike down to some petroglyph rocks and one of the many beautiful creeks that flow througth the preserve. We saw a ton of animals and insects we had never seen before and we even saw the famous Gibnut, remember that rodent that we had for lunch in Belize? They are pretty cute, and we even felt a little guilty for a few minutes, but it WAS tasty 🙂 We even found the seeds and seed pods of most trees at El Imposible fascinating, just look at some of the photos below and you will hopefully understand.
There are many hikes at El Imposible, but if you only have time for one we recommend the Piedra Sellada trail. It should be a 4 and a half to five hour relatively strenuous hike, but well worth it… at the end of the hike you are rewarded by a wonderful rock formation covered in carvings done by an ancient culture, some say Mayan, but many disagree (including our guides). After examining the carvings there is a wonderful spring fed pool that is the perfect spot for a picnic and a relaxing break from the hike. There are some giant crawfish/dads in the water that are almost as large as a lobster (they are protected, otherwise they would have been our dinner). What a great hike!