I think we've made it clear that we love food and in fact a great part of our little travel experiment revolves around immersing ourselves in local culture and we believe trying local foods is an essential part of the "inmersion" process. Experiencing a culture is definitely enhanced by partaking in the local food, but in all honesty the food in most countries we have visited (outside of Mexico's wonderful food) has been disappointing. With a few exemptions such as; the fruits in all countries (remember our mystery giant in Mexico), pupusas in El Salvador, a few dishes in Colombia (mainly the Bandeja Paisa) and perhaps the wonderful pork hornado in Ecuador. Food in most countries we have visited has been good, but simple in flavors and lacking in creativity, this is not necessarily a bad thing, but you catch my drift.
The boring food ends with our drive into Peru, a food lovers paradise. There will definitely be multiple food posts while in Peru. We love Peruvian food. The "local" food has influences from all over the globe and the original local dishes are delicious and most are elegantly simple yet complex in flavors. I would say the main draw back is the heavy handed use of mayonnaise, but I happen to like mayo especially if it is homemade.
As some of you may remember I like to take cooking classes whenever possible (such as our amazing Oaxaca experience), so following our tradition I decided to try a cooking class. Lucky for us the owners of the B&B we are staying at (PeruRoadtrip.com) in Lima are friends with Danilo, a great cook, and voila an impromptu tour of the local market and all day cooking class followed by an insane feast of food.
We have been to many markets during our travels and we love them all, they have a lot of character and they are a great way to learn a lot about locals, their food and culture. The visit to Minka market in Lima was extraordinary due to the variety and quality of foods and the sheer size of the place. If you want an item you will most probably find it here, you name it they will have it.
An interesting thing about Minka is that you could think of it as a wholesale type store such as Costco, but they sell you as little or as much of an item as you want. If you desire paprika you can get as little as a thimble or a gallon size bucket. No predetermined package sizes here.
I love the bulk bags, don't ask me why…
Please take a minute to look at the photos of the amazing selection of truly high quality, fresh fruits and veggies. Fruits you don't really see imported into the U.S., dozens of different potato varieties just a wonderful place for anyone who loves food
Of course for a true omnivore who leans towards mostly carnivore a wonderful meat section as well:
One thing I had never encountered (or at least never noticed) is the use of hens in some cuisines. Hen in this case meaning a mature chicken… in case you do not know: when you buy a chicken in the supermarket in the U.S. it is usually a very young bird. Here they sell old laying hens, some people we have spoken to here in Peru say the older birds though tougher are much tastier. We've had a couple of hen dishes, hen soup and hen salad and I must say they are indeed much better than their chicken counterparts. Check out a laying hen hanging at the butcher (warning: could bother some)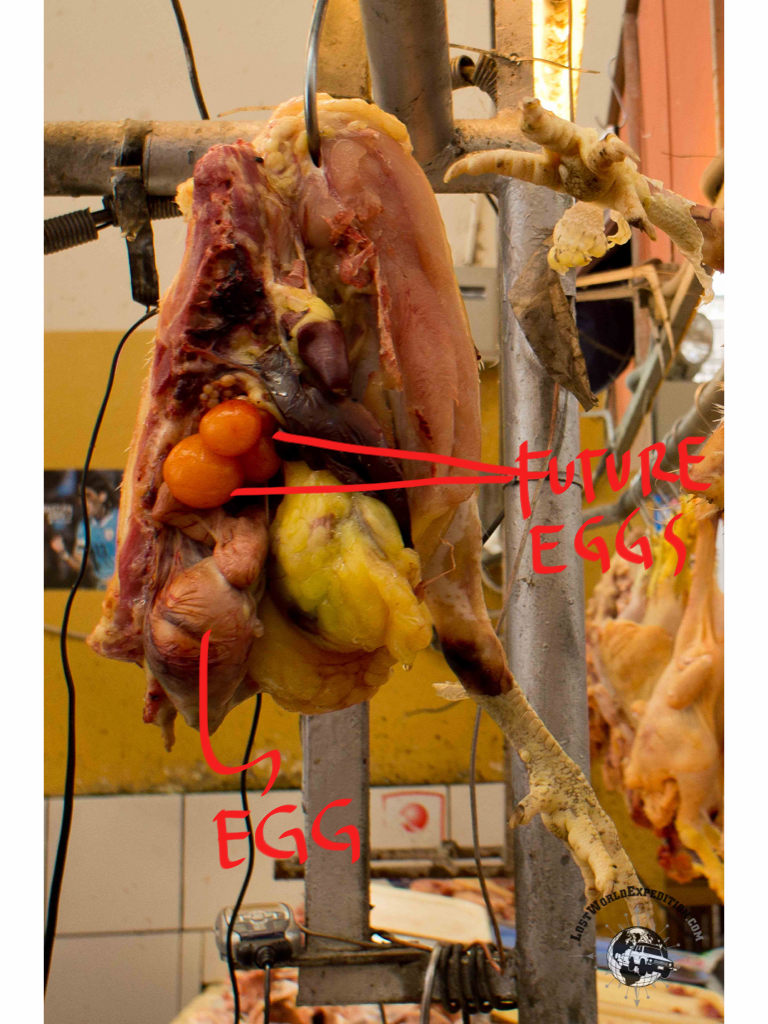 For Lunch at the market we stopped at the everything is fried place and washed it down with a lightly fermented corn drink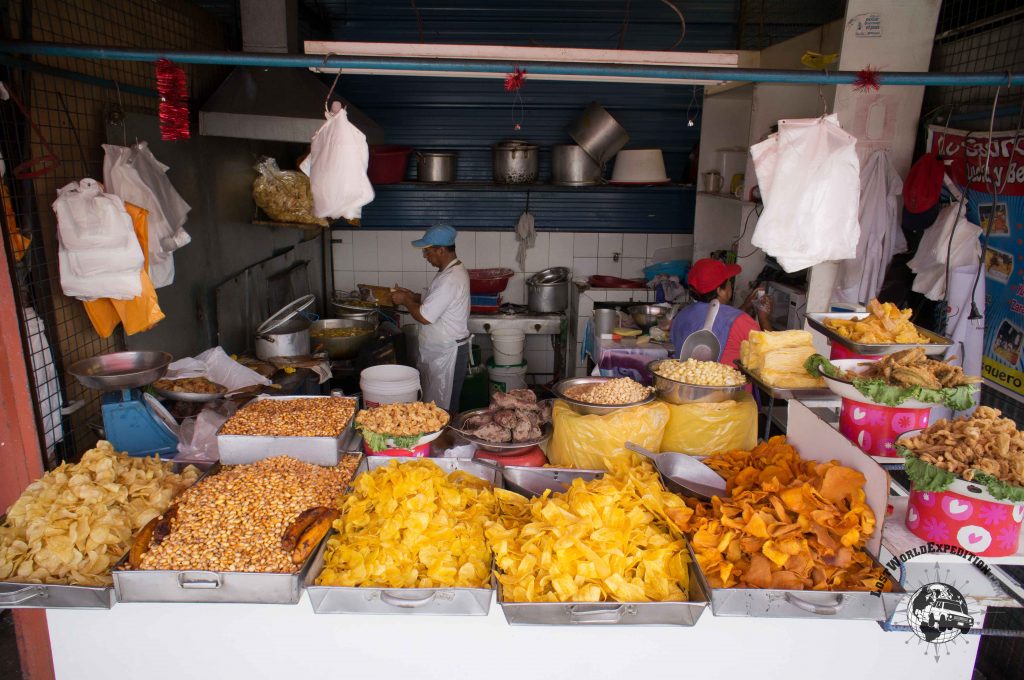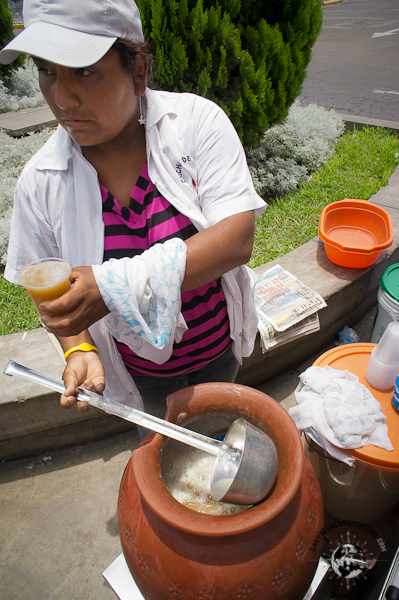 After a wonderful visit to the Minka market it we hit the kitchen and got our hands dirty so to speak. The menu as follows (I appologize for the photos… they do not look tasty, but they are):
Causa de cangrejo (causa of crab meat), basically a three layer dish top and bottom layer are made from a mashed yellow grainy potato and the filling is crab meat with very little mayo, spices and lime.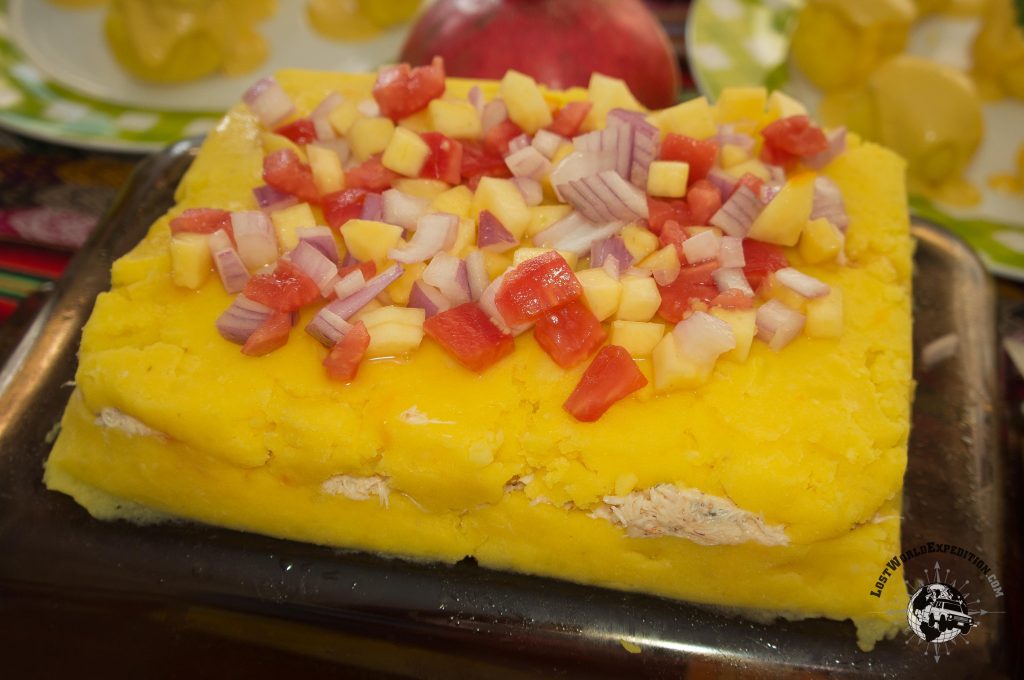 Danilo also made a wonderful "Causa Tekka" sort of a take on Tekka Maki or a roll of mashed potato and crab, awesome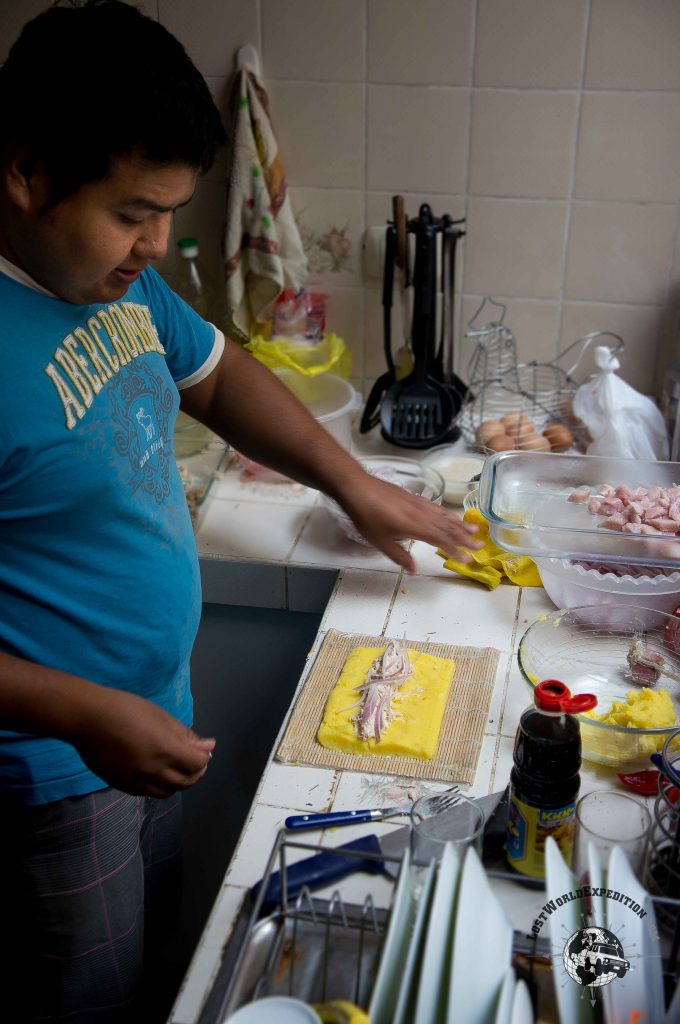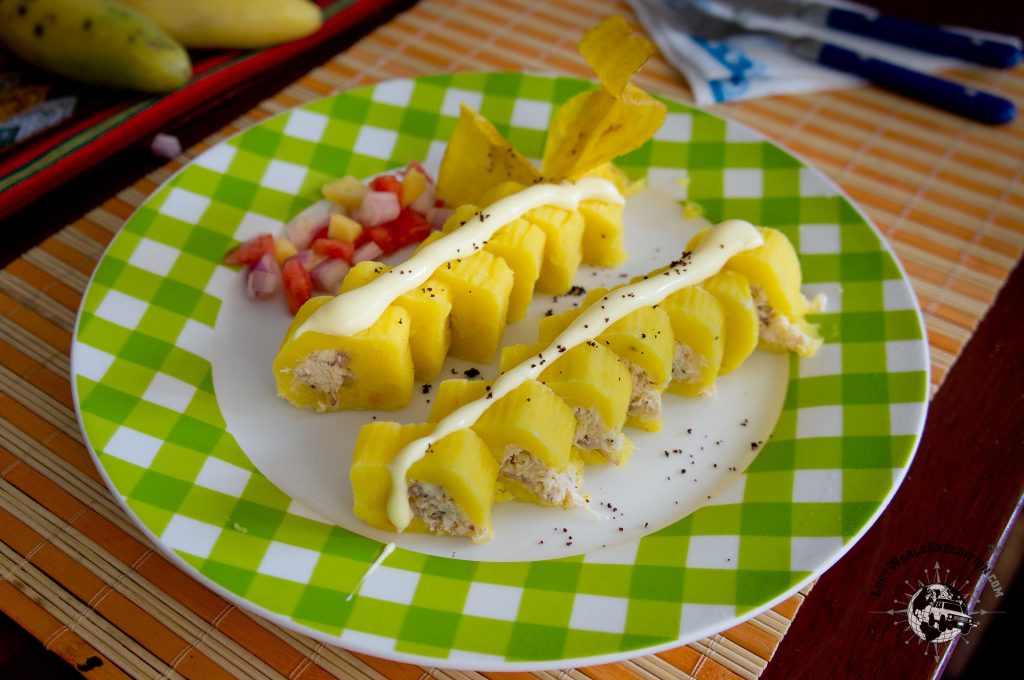 Papas a la Huancaina (Lit. Huancayo potatoes). Normally this dish consists of slices of waxy potato topped with Huancaina sauce, but since we were making mashed potatoes for the Causa we opted to make a non-traditional dish with a very traditional sauce. The Huancaina sauce is made with queso fresco (a plain farmers cheese), olive oil, aji amarillo (yellow mildly spicy Peruvian pepper which is actually orange), evaporated milk blended with saltines.
Cebiche de Ojo de Uva (Cebiche of (lit) grape eye fish). Lets talk about cebiche for a spell, this is probably the most famous dish from Peru (at least in my mind) and there is some debate as to wether it should be spelled with a "v" or a "b" my iPhone autocorrects with a v… everyone I ask here in Peru seems to think either is fine, so I may use both just cause I can. Ceviche has 4 ingredients and requires no heat, it is fish "cooked" in the acid of lime juice, a little spice from a pepper, and the flavor and crunch of thin slices of red onion. Cebiche is so simple and delicious I am surprised we did not eat it in California after catching some halibut and maybe even ling cod.
Tiradito de Ojo de Uva: sort of a sashimi with a sauce made with cebiche juice and a blended aji amarillo, the sauce is added last minute so the acid really does not cook the fish much.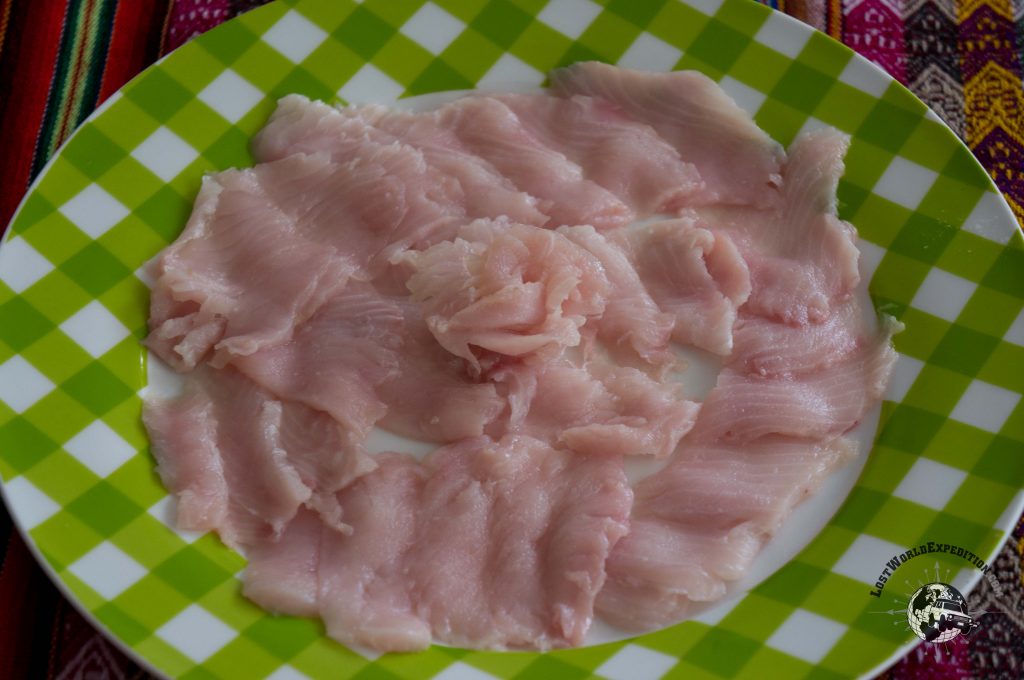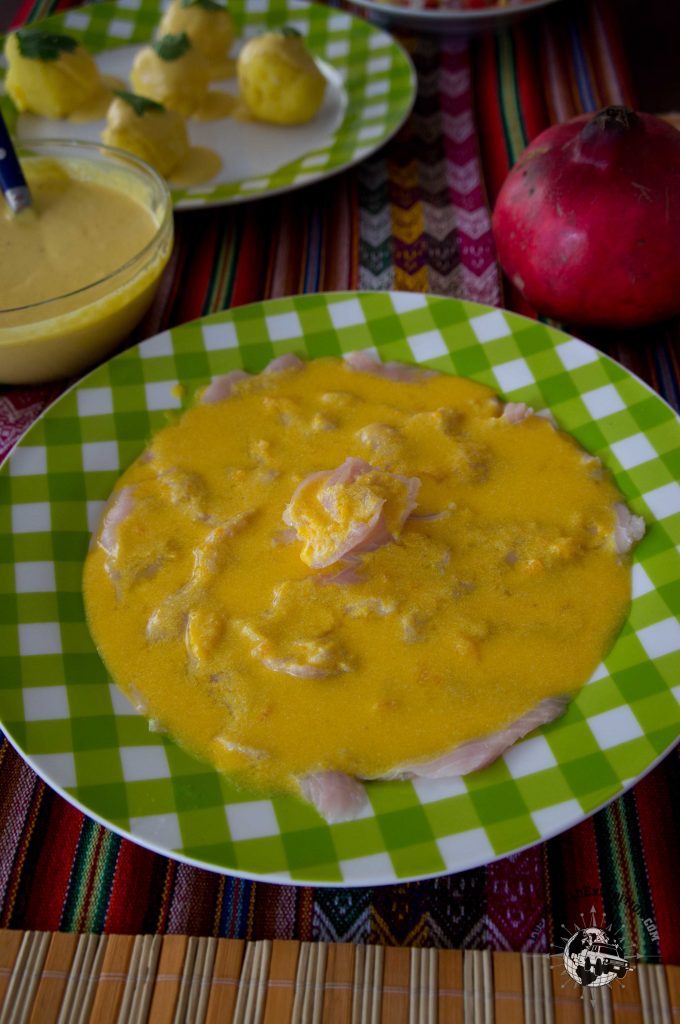 Lomo Saltado (beef stir fried with tomato, onions, and french fries) Considered a very traditional national dish although it has an obvious Asian influence. The addition of the french fries are in the actual stir fry, not as a side and it is delicious.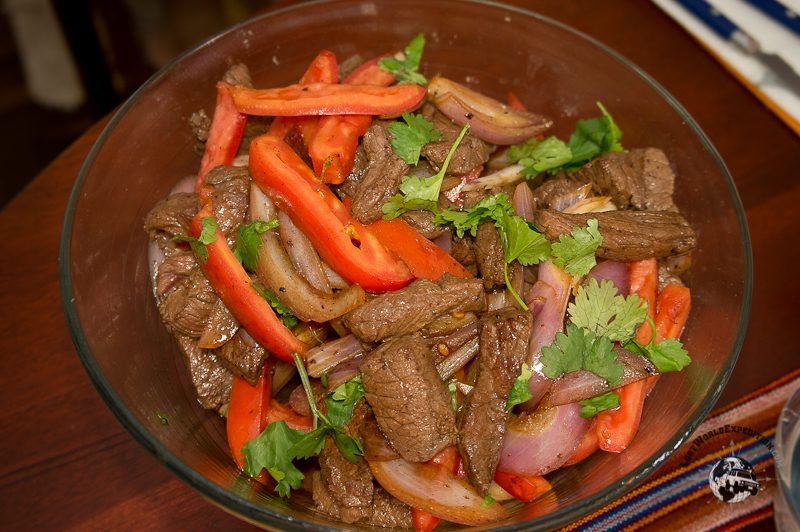 Our wonderful spread: