I think the borders of Central America have left a lasting impression on us. Every time we are getting ready to cross an unknown border, no matter where we are, we end up with anxiety and a general feeling of getting ready for battle. When we crossed our first borders in Europe last year it was the same. Mentally preparing for the worst in order to keep that smile plastered to our faces in whatever bureaucratic battle comes our way. In the end the border bastards of Eastern Europe and Turkey were happily disappointing in their bastardness. Every border was super easy, and the customs officers friendly and efficient. We had heard from different sources that arriving at the port in Morocco can be busy and overwhelming, with "helpers" everywhere offering you their service and the bureaucrats being well, bureaucrats. Mentally prepared for battle, we opted for the fast ferry going from Tarifa directly to Tangier City. Arriving at the port in Tangier we were greeted by an empty port and a friendly and efficient customs officer. In this case, it's good to be disappointed. Within 20 minutes of arriving we were off to explore a new country.  Driving into Tangier, our first impressions were that we were as close to Latin America as we had been in a long time. As two lane highways turned into 4 lanes of traffic and drivers passed on all sides at once, we decided Luis had some pretty seriously bad driving to get used to. Luckily he is a quick study and in no time, he began to drive with the best of the worst of them.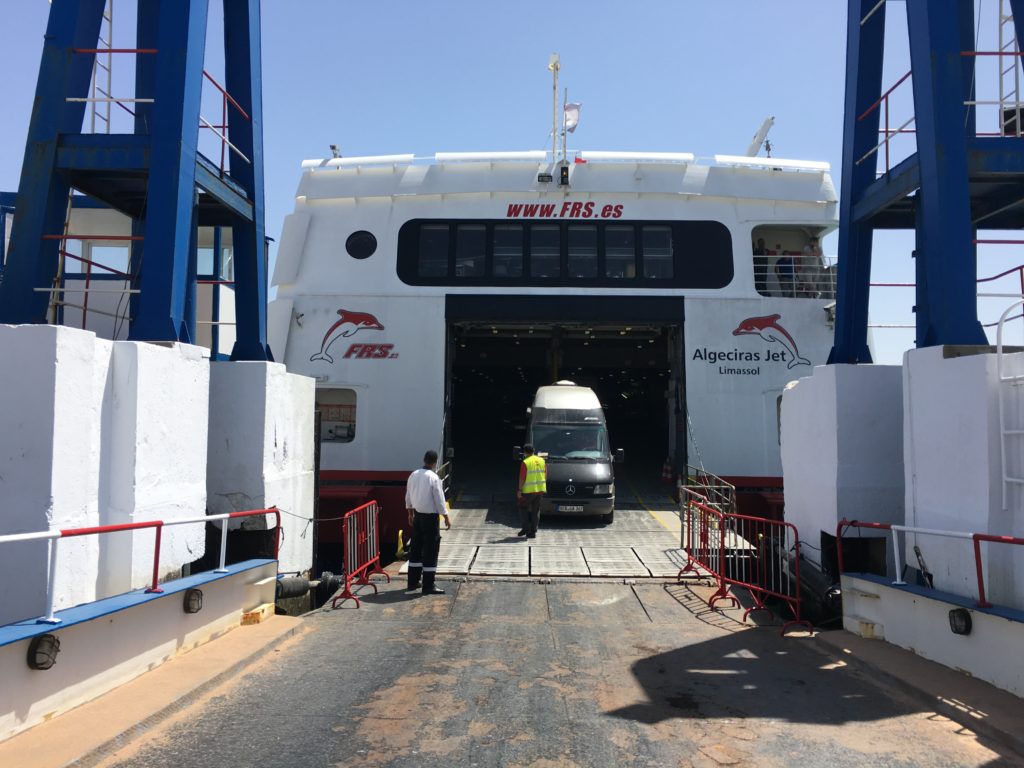 The city was crowded and chaotic, and all the signs completely unintelligible. For the first time in a long while, we definitely felt like we were in a foreign place. We were given SIM cards by some folks who had just returned from Morocco while in Seville. On our way through Tangier to the campground we just happened to pass a store for the cell company (luckily they had a sign in English) and a bank right next to it (the bank has a picture of a hand with a bank card in it). We could get money and internet all in one fell swoop. Or so we thought. I waited with the car while Luis went inside. A half hour later I watched him leave and cross the street, disappear, return to the store again, and leave across the street again. After that he was gone for another hour or so. I sat in the van, trying to decide how long he should be gone before I became worried. Eventually he returned having successfully added data to one SIM card before being kicked out of the shop as they were closing up. The bright side was we had internet for the time being. Although it took over an hour, and it wasn't even the guys who worked at the cell phone place who had helped him, it was the security guard! Welcome to Morocco 🙂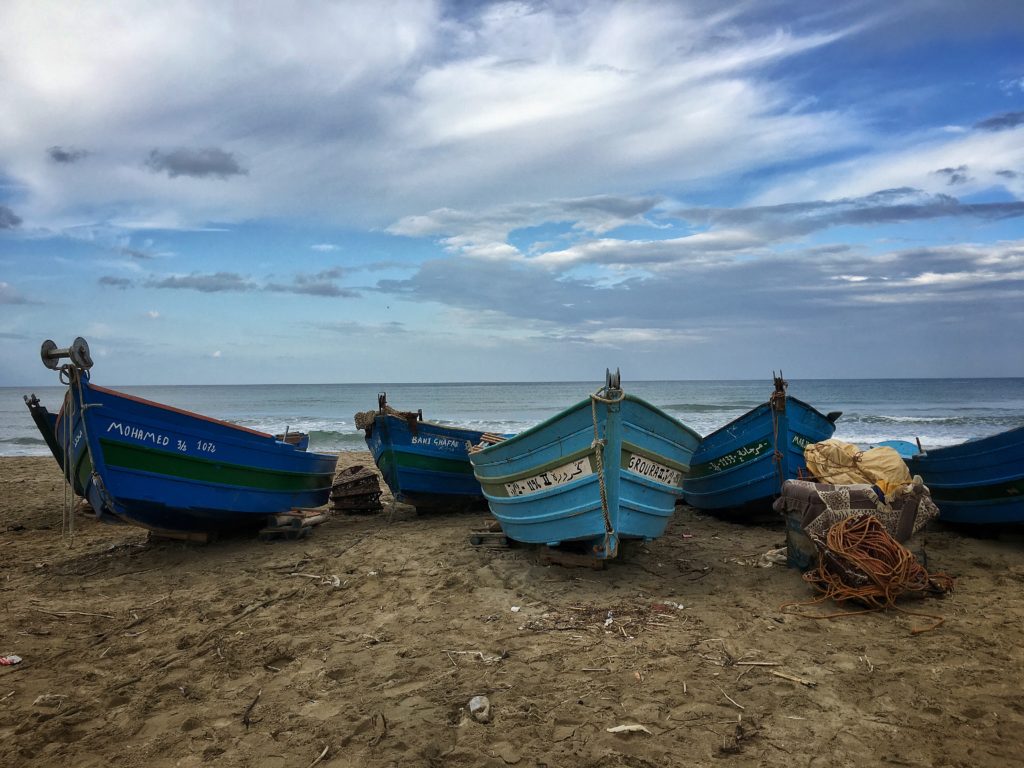 We skipped site seeing in Tangier and headed to Tetouan to check out the medina there, then on to the Blue City of Chefchaouen. Chefchaouen was the first of many pleasant surprises waiting for us here in Morocco. Tucked into the base of mountain peaks, with a blue washed medina of narrow streets climbing up and down the hillside, Chefchaouen is a magical place.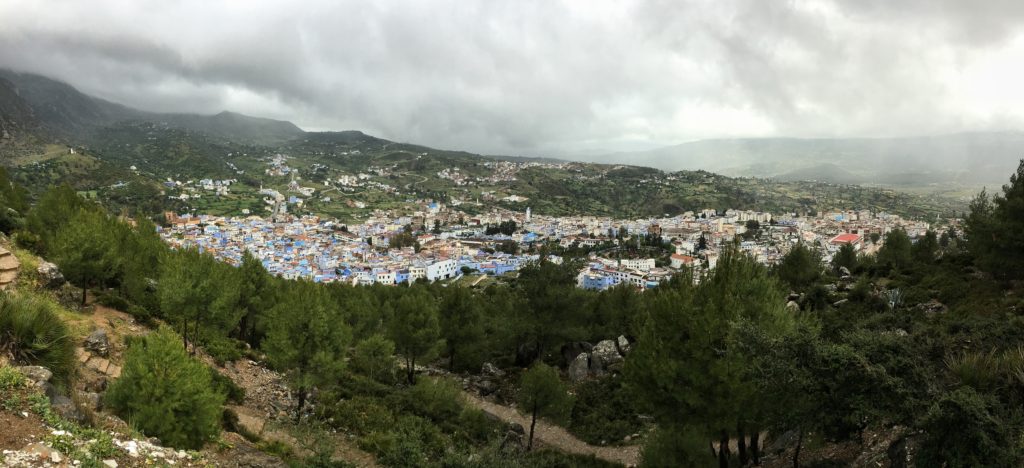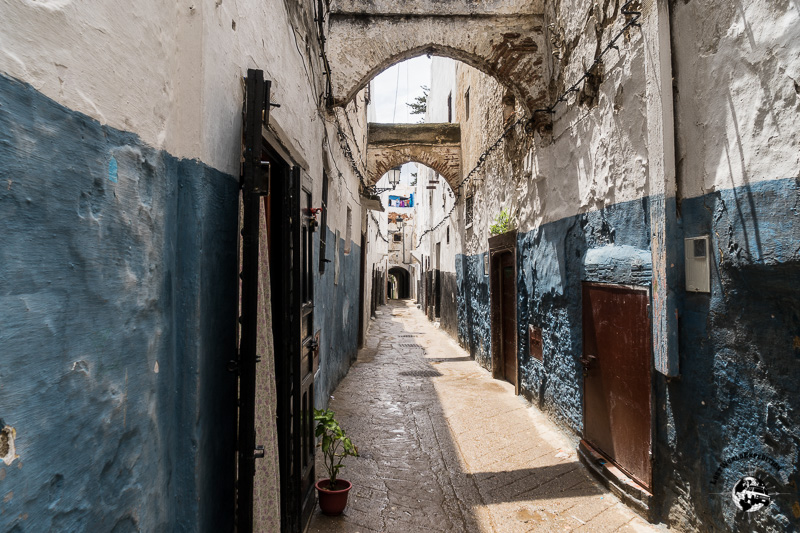 We had mentally prepared ourselves for lots of heat and desert, so the last thing we expected was rolling green hills, mountains, and rain. Lots of rain. It rained the whole three days we were in Chefchouaen, making us incredibly thankful for Wanda and her comfy interior. In between downpours we wandered the blue washed streets, snapping pictures and immersing ourselves in Morocco. The medina is all narrow pedestrian only streets winding around in continuous curves up and down the hills. There isn't a single straight street to be found. This and the constant blue of every building in the medina makes it very easy to get lost.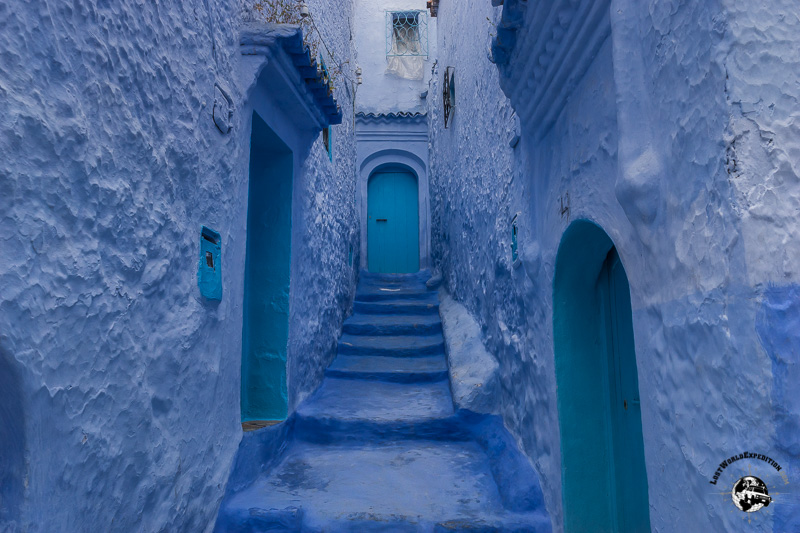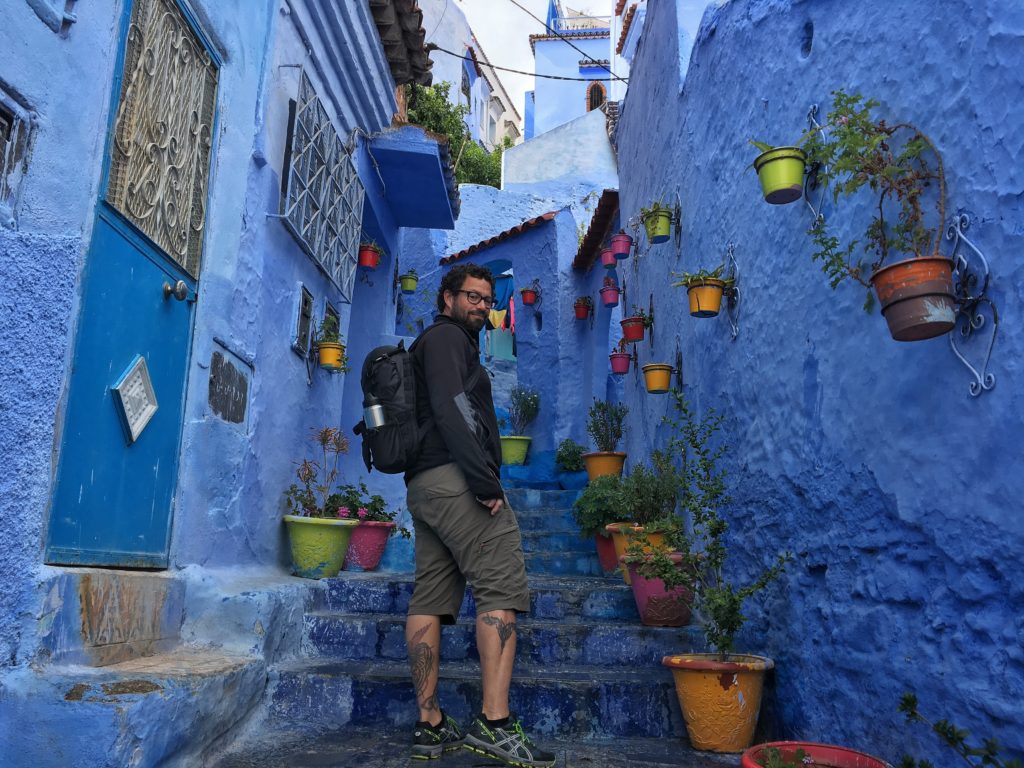 After three days of rain, we decided to head south and see if we could outrun the weather. Our next stop was at the Roman ruins of Volubilis. The weather decided to cooperate with us just long enough to walk the site and enjoy the views for a few hours before the sky opened up again and gave us a nice drenching on our way back to Wanda. Volubilis was another great surprise. For us, ruins are like waterfalls, no matter how many we've seen they never get old. There is something so special about strolling down lanes that have been there thousands of years and trying to imagine what it would have been like when it was a bustling city.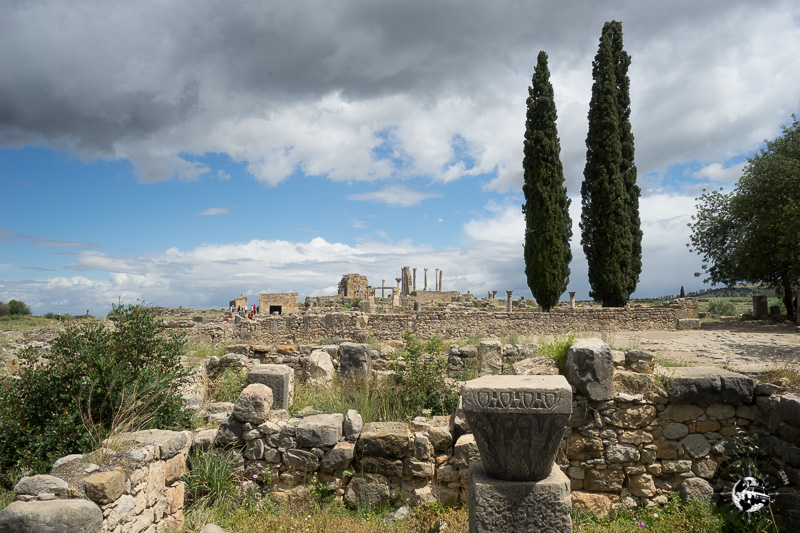 We were especially surprised to find Roman ruins in Morocco. It turns out this was the capital of the African part of the Roman Empire. The ruins themselves are very nice to explore, especially in the spring with rolling green hills and wildflowers as a backdrop. The especially impressive part of Volubilis are the amazingly well preserved and intricate mosaics scattered around the site. It isn't very well signed, so without a guide you kind of just have to wander around and see what you find. The mosaics are like finding an agate at the beach. You are equal parts amazed at the beauty of what you found, and happy with the surprise of it.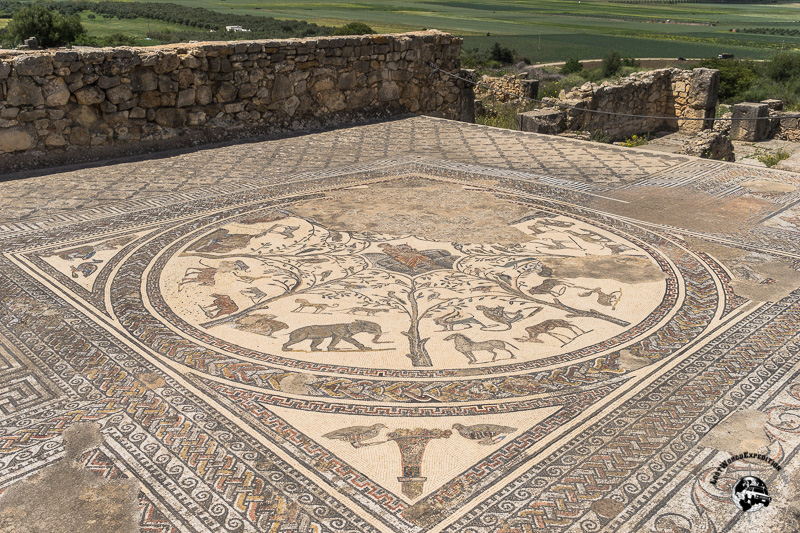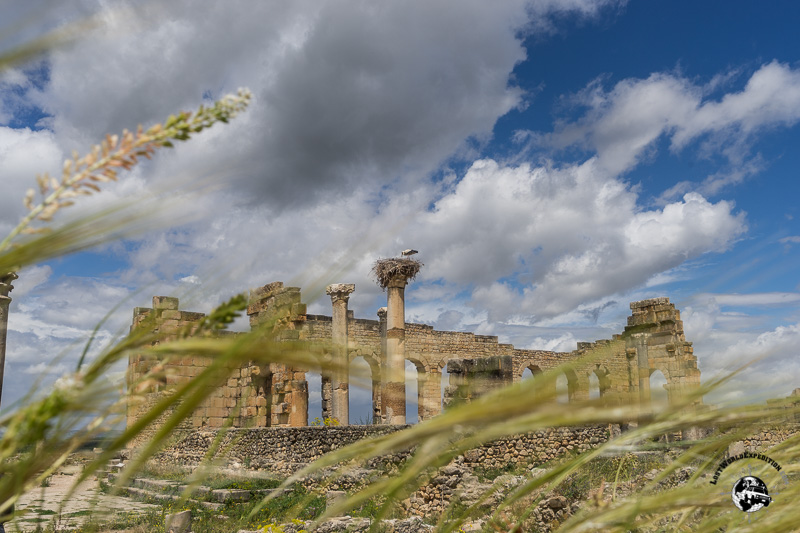 Throughout all of this, we were slowly adjusting to the beauty and exoticness that is Morocco. The women, covered head to toe in brightly colored robes or all black covering even their faces. The men, wearing the long robes and pointed hoods that reminded us of wizards robes. The call to prayer in the middle of the night and throughout the day, at once sounding so exotic yet  somehow comforting (although this is definitely dependent on the guy doing the call). Trying to eat with nothing more than our hands and hunks of bread. And so much more. So far this country has proven to be so much more than our narrow expectations before our arrival.